Falling In Love the most beautiful feeling in this world. You don't feel for everyone, their only one special person with whom your love is very different. Though we love everybody mom, dad, friends, siblings, but the feeling for that unknown person is totally out of the world. When we fall in love time passes by slowly, we see that person in color and rest all in black and white. We constantly keep thinking about that person, about their smile, about their wink. It gives us butterflies in the belly.
Everyone experiences this feeling at least once in their whole life. This is the most purest and true feeling which we feel for someone. There is no demands no complaints, we just love that person unconditionally. We are human beings, feelings are normal for us, but feelings for that particular one person is all different. Everyone should Fall In Love and experience that bliss which we can't find any other place.
Some might be scared of getting hurt from that person whom they fall for, but never think of this, just give love and spread happiness, you will find a complete different side of yours. If you can't express to them just send them a song or poem or saying which shows what you feel for them. To make this easy we have brought you Falling In Love Quotes for you to express yourself easily and gently. Do enjoy them and love that person with all your heart.
Falling In Love Quotes
"Can I go where you go?/Can we always be this close forever and ever?"
"He's my best, best friend. What do you do with your best friend? You do nothing"
"Loving someone is giving them the power to break your heart, but trusting them not to."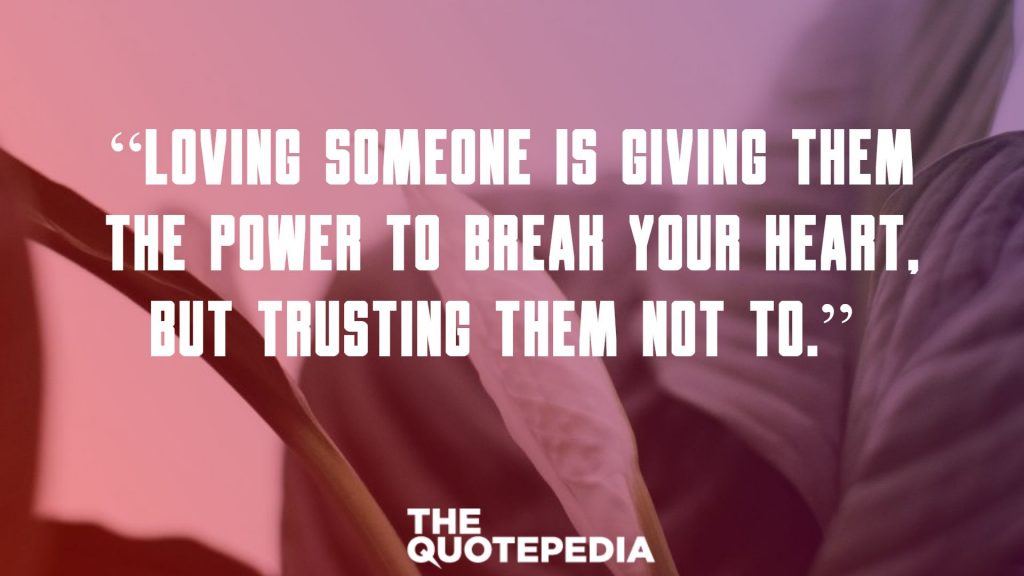 "If love ain't dead I'ma kill it 'cause it's killin' me/Cold world, they'll be livin' in a fantasy/Got me, it's the only thing I'll ever need."
"You know you're in love when you can't fall asleep because reality is finally better than your dreams."
"You know you're in love when you can't fall asleep because reality is finally better than your dreams."
"You meet thousands of people and none of them really touch you. And then you meet one person and your life is changed forever."
"Most of all, I'm scared of walking out of this room and never feeling the rest of my whole life the way I feel when I'm with you."
"I fell in love the way you fall asleep: slowly, and then all at once."
"First best is falling in love. Second best is being in love. Least best is falling out of love. But any of it is better than never having been in love."
"I knew it the very first time I touched her. It was like coming home, only to no home I'd ever known."
"From the first time we real, it was like I had known her before."
"You're my downfall, you're my muse/My worst distraction, my rhythm and blues/I can't stop singing, it's ringing, in my head for you."
"I've fallen in love. I'm an ordinary woman. I didn't think such violent things could happen to ordinary people."
"Completely love at first sight. He told me he went home and wrote my number on so many other things in case he lost it."
"Each time you happen to me all over again."
"I hope you don't mind/That I put down in words/How wonderful life is while you're in the world."
"I'm just… happy. I've never felt that before. I'm just exactly where I want to be."
"You're the first boy I ever kissed, Jake, and I want you to be the last."
"This is the golden age of something good and right and real/and I never saw you coming/and I'll never be the same."
"Let us not only fall in love, let us live life as if life is our love affair."
"I spend most nights at home falling in love with the idea of you."
"When I fall in love, it will be forever."
"As he read, I fell in love the way you fall asleep: slow, and then all at once."
"This thing about you that you think is your flaw – it's the reason I'm falling in love with you."
"I'm not just falling in love with you, I'm falling into you. You're an ocean, and I'm falling in, drowning in the depths of who you are."
"It was the way you laughed, I knew I wanted that in my life."
"All, everything that I understand, I only understand because I love."
"You are what I never knew I always wanted."
"Love unlocks doors and opens windows that weren't even there before."
"I don't know how to say this, or even if it's true. But I love the way you make me feel, and I think I'm falling for you."
"Have you ever watched a leaf leave a tree? It falls upward first, and then it drifts toward the ground, just as I find myself drifting towards you."\
"I fall into him like one would fall into a dream, ready to submit to your subconscious's innermost desires and your deepest fears."
"I fell in love with his unchanging soul."
"I was so blessed. The first person I gave my heart to was an angel who plucked the feathers off his wings and built a nest for it."
"I've fallen in love many times… but always with you."
"She was made of a magic, that only I could see."
"I swear I couldn't love you more than I do right now, and yet I know I will tomorrow."
"And in that moment, I swear we were infinite."
"But the you who you are tonight is the same you I was in love with yesterday, the same you I'll be in love with tomorrow."
"Meeting you was fate..Becoming your friend was a choice..But falling in love with you I had no control over."
"When I saw you I couldn't keep my eyes off of you. When you smiled at me I couldn't keep my heart from racing. When you looked into my eyes that's all it took for me to fall in love with you."
"No one ever fell in love gracefully."
"You will always fall in love, and it will always be like having your throat cut, just that fast."
"I think falling in love is always a surprise, right?"
"The greatest wonderful feeling is falling in love."
"When you trip over love, it is easy to get up. But when you fall in love, it is impossible to stand again."
These were some of our top picked Falling In Love Quotes, keep following The Quotepedia for more wonderful and motivational quotes
If you love them, don't forget to share with your friends and do let us know which one was your favourite in the comment box below.