Fear And Loathing In Las Vegas is a book written by Hunter S Thompson in 1971 which shows 2 reporters who travel to las vegas to report a mint 400 motorcycle race for an unnamed magazine but end up in excessive drugs including LSD, Cocaine, Alcohol, and cannabis. They get into all this too much that they end up in by destroying hotel rooms, wrecking cars and having visions of anthropomorphic desert animals, apart from all this they both deeply think about both the "American Dream" and the '60s counterculture in a city of greed. This novel shows abusive use and the repercussions of the drugs and gives the learning that one should not use such substances in large quantities.
One should not use any kind of substances which harms the brain and makes the body drive in a crazy way. There nothing enjoyable in all this this just destroys life nothing else. So be smart and stay safe and stay far as much as you can from all the toxic substances. Once in awhile it is ok to have fun but to make it a habit and do crazy things after consuming them is very dangerous.
Here we bring top Fear And Loathing In Las Vegas Quotes for you to make you understand the scenario of the novel. Do enjoy it and be smart.
Fear And Loathing In Las Vegas Quotes
"We were somewhere around Barstow, on the edge of the desert, when the drugs began to take hold. I remember saying something like:"
"I feel a bit lightheaded. Maybe you should drive."
"Holy Jesus! What are these goddamn animals?!"
"Did you say something?"
"Hm? Never mind. It's your turn to drive."
"No point in mentioning these bats, I thought. Poor bastard will see them soon enough."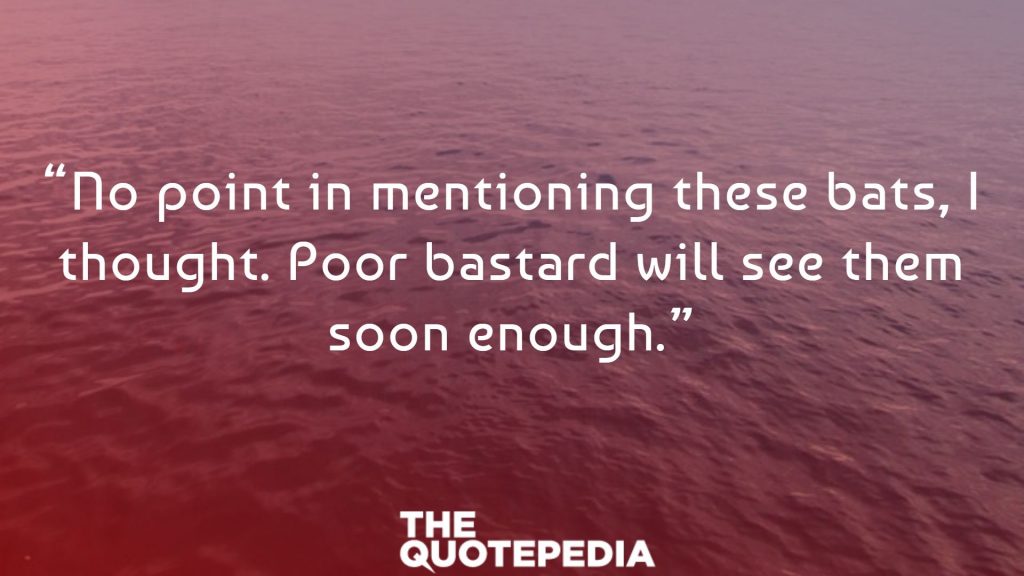 "Did you see what GOD just did to us man!"
"God didn't do that, you did! You're a fucking narcotics agent, I knew it. That was our cocaine you fucking pig, scum Pig, swine, whore!"
"Better be careful. Plenty of vultures out here, they'll pick your bones clean by morning."
"You fucking whore…"
"He he heeee, here's your half of the sunshine acid. Eat it."
"Yeah, all right sure. How long do I have?"
"As your attorney I advise you to drive at top speed and it'll be a Goddamn miracle if we get there before you turn into some kind of wild animal. Are you ready for that? Checking into a Las Vegas hotel under a phony name with the intent to commit capital fraud on a head full of acid? I sure hope so…"
"I want you to understand that this man at the wheel is my attorney. He's not just some dingbat I found on the strip, man. He's a foreigner. I think he's probably Samoan. But doesn't matter though, does it? Are you prejudiced?"
"Hell no."
"I didn't think so. Because in spite of his race, this man is extremely valuable to me. Oh shit! I forgot about the beer! You want some?"
"Alright, let's get right to the heart of this thing."
"The name rang a bell, but I couldn't concentrate. Terrible things were happening all around us."
"Put on some golf shoes! Otherwise we'll never make it out of this place alive. Impossible to walk in this muck. No footing at all!"
"Hey, there's two women fucking a polar bear."
"Don't tell me those things. Not now, man."
"Let's cut down to the brass tacks here."
"We won't make the nut unless we have unlimited credit."
"Jesus Christ, we will, man. You Samoans are all the same. You have no faith in the essential decency of the white man's culture."
"What's the trouble?"
"Well, all this white stuff on my sleeve is LSD!"
"The only thing that really worried me was the ether. There is nothing in the world more helpless and irresponsible and depraved than a man in the depths of an ether binge, and I knew we'd get into that rotten stuff pretty soon."
"I was right in the middle of a fucking reptile zoo, and somebody was giving booze to these goddamn things. Won't be long now before they tear us to shreds."
"Can I call you a cab?

Sure, and I'll call you a cocksucker!"
"You can't park your car here.

Why not? Is this not a reasonable place to park?

Reasonable? You're on a sidewalk! This is the sidewalk!"
"I wouldn't dare go to sleep with you wandering around with a head full of acid, wanting to slice me up with that goddamn knife."
"You Samoans are all the same. You have no faith in the essential decency of the white man's culture."
That's ugly, man. Stop talking like that.
I figure she can do about four at a time. If we keep her full of acid that's more like two grand a day. Maybe three."
There's a uh, big machine in the sky, some kind of, I dunno, electric snake, coming straight at us.
"One of the things you learn from years of dealing with drug people, is that you can turn your back on a person, but never turn your back on a drug. Especially when it's waving a razor-sharp hunting knife in your eye."
"A drug person can learn to cope with things like seeing their dead grandmother crawling up their leg with a knife in her teeth."
"Few people understand the psychology of dealing with a highway traffic cop. A normal speeder will panic and immediately pull over to the side. This is wrong. It arouses contempt in the cop heart. Make the bastard chase you. He will follow."
"I'm a relatively respectable citizen. Multiple felon perhaps, but certainly not dangerous."
"San Francisco in the middle sixties was a very special time and place to be a part of. But no explanation, no mix of words or music or memories can touch that sense of knowing that you were there and alive in that corner of time in the world. Whatever it meant."
These were some of our top picked Fear And Loathing In Las Vegas Quotes, keep following The Quotepedia for more wonderful and motivational quotes
If you love them, don't forget to share with your friends and do let us know which one was your favourite in the comment box below.