The best way to wish someone on his/her birthday is to see them the best birthday quotes. wishes. images, etc as it can help in make their day joyful. We all know the importance of birthday as it comes once only in the whole year, so why not make this amazing day special for someone.
For one day you can be the beacon of light,their silver lining in the clouds.The right way to celebrate the best people in your life is often a daily challenge, and taking those loved ones for granted can be so easy by sending them the best and lovely messages. sending some of the best birthday quotes can be a brilliant idea. Only the best wishes make the loved one feel special, feel cared and even appreciated. These wishes can brightened someone's day and it shows the caring nature of one for another. It can also inspire some people and motivate them to go further in life
Birthdays are the new start to purse your goals. Quotes and messages helps to to express our feelings to each others. Lets celebrate this occasion with sweet words. And the sole reason to write this post is to provide you the best birthday wishes so that you can make the birthday person happy.
Best Birthday Quotes
All things are sweet and bright. May you have a lovely birthday Night.
Let's light the candles and celebrate this special day of your life. Happy birthday.
May your path ahead be filled with all the love and success you deserve. Thank you for all you do for me.
I'm so glad to be able to celebrate this day with a special friend. Happy birthday!
Thanks for being someone that I can talk to and share life with. Happy birthday.
The secret of staying young is to live honestly, eat slowly, and lie about your age.
I hope your special day will bring you lots of happiness, love and fun. You deserve them a lot. Enjoy!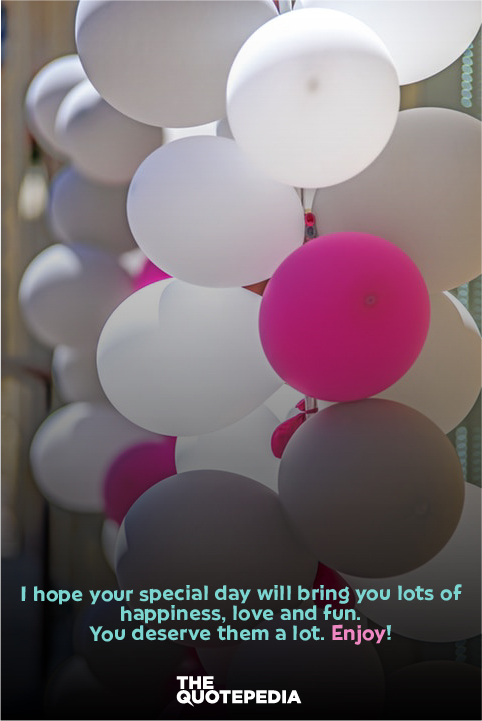 You are very special and that's why you need to float with lots of smiles on your lovely face. Happy birthday.
To my sweetheart, happy birthday. I hope you have a truly magical day!
Best things are yet to come this year, celebrate being special on every day! Happy birthday!
Dear friend, the one thing in life that has brought me the most warmth and joy in my heart is our friendship. It's a blessed mystery that we ended up being such good friends, but I'm positive I'm never letting you go.
They say the only real happiness in life is to find someone who knows how to be loved and love back. Well, I've found my person that does that so perfectly. It's you. Happy birthday, sweetie.
I know your birthday is a special day with or without me, but I have to say that you are the best friend I've ever had!
Every time you blow out a candle it marks another year you have contributed to the world with your humbling presence. Thanks for that and happy birthday!
Happy Birthday! I hope you have a great day today and the year ahead is full of many blessings.
Happy Birthday to my crazy, fun, fabulous best friend! I love you to the moon and back and am so grateful for your friendship and all the fun times we've shared this year. I hope you have a great day!
You're such a generous, kind, fabulous person and I'm so lucky to have you as a friend. Wishing you an extra special birthday and best wishes for the year ahead.
"Happy birthday! Your life is just about to pick up speed and blast off into the stratosphere. Wear a seat belt and be sure to enjoy the journey. Happy birthday!"
"Count not the candles…see the lights they give. Count not the years, but the life you live. Wishing you a wonderful time ahead. Happy birthday."
"As you get older three things happen. The first is your memory goes, and I can't remember the other two. Happy birthday!"